fashion label flagship
A collaboration with Tommy Smythe, this retail shop in midtown Toronto is the first to bring Ashley Botten's distinctive sensibilities to the world of fashion. Its primary scheme derives from a shared love for wood and is expanded on with a curated selection of natural materials that have been oxidized, smoked, or blackened. An unexpected beauty is found in the terracotta brick flooring that infuses an old-world classic with a contemporary vibe. Wall-size feature boxes in the foyer, each with a single hook for displaying a solitary garment or styled outfit, create stop-and-look moments that are visible from the street.
Design team: Ashley Botten, Tommy Smythe, Susana Angel
Builder: GV&Co
Photographer: Patrick Biller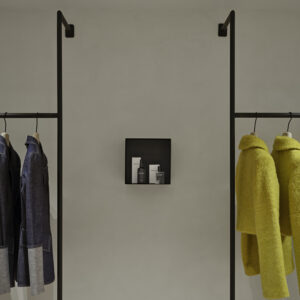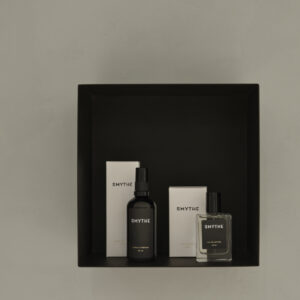 abd in Smythe
The Moment Box is like a room inside a room, a micro-space for displaying an object or floral arrangements in contemplative isolation. Ideal for adding a third dimension to any wall, the box can also be left empty as a sculptural work of art in its own right.

shop now